We're so excited to be bringing the Alfresco Emporium experience to the heart of the city for the first time with our Limited Edition QVB store.
Alfresco Emporium comes to the QVB
Indulge in stylish coastal elegance at the QVB this July at our exclusive city boutique, Alfresco Emporium Limited Edition. For a limited time, our new QVB boutique will showcase a curated collection of quintessential Alfresco Emporium style in the sublime surrounds of Sydney's iconic Queen Victoria Building.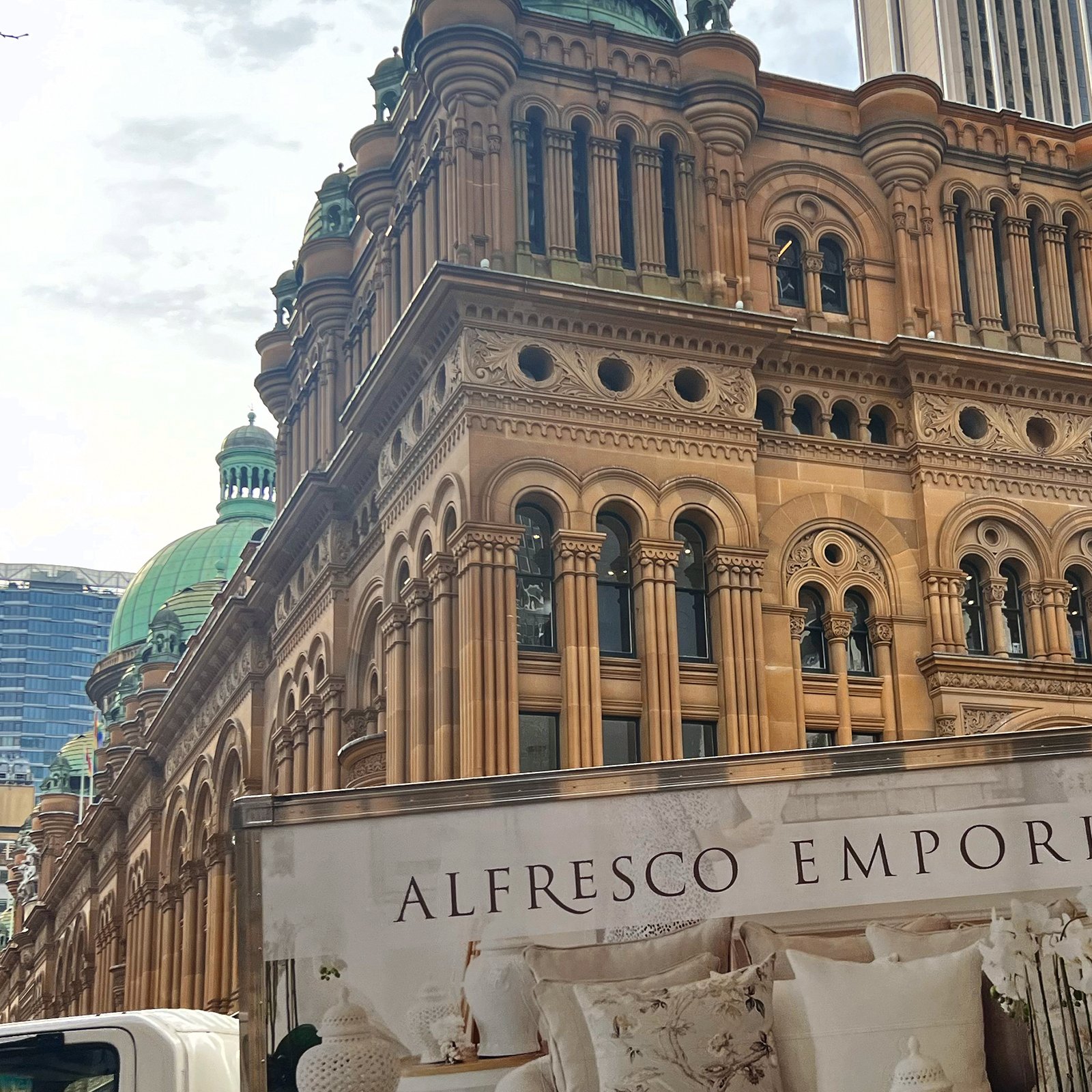 From our family to yours
Visiting the QVB was a treasured tradition for Alfresco Emporium's founders, the Hore family when their children were young. Founders Janice and Kevin would take their children, Linda, Karen and Michael, to see the QVB's iconic clocks and its famous Christmas tree every year. Fast forward to today, and Linda, Karen, and Michael now work in the family business. The whole family is thrilled to launch Alfresco Emporium Limited Edition at the QVB, the scene of so many precious family memories.
The QVB: a Sydney icon for 125 years
First opened in 1898, the stunning sandstone Queen Victoria Building (affectionately known as the QVB) was named in honour of Queen Victoria's Diamond Jubilee. The grand building's distinctive Romanesque architecture dominates an entire city block in the heart of Sydney. With its impressive copper domes, gorgeous stained glass windows, and ornate 19th-century details, it's plain to see the QVB was designed for promenading as much as it was for shopping.
Once home to a concert hall (later to become the city library), tea rooms, and shops including tailors, boot importers, florists, and fruiterers, today the QVB is renowned as a prestige shopping destination. A Sydney landmark, the QVB holds a special place in the hearts of many Sydneysiders and for those from further afield, too.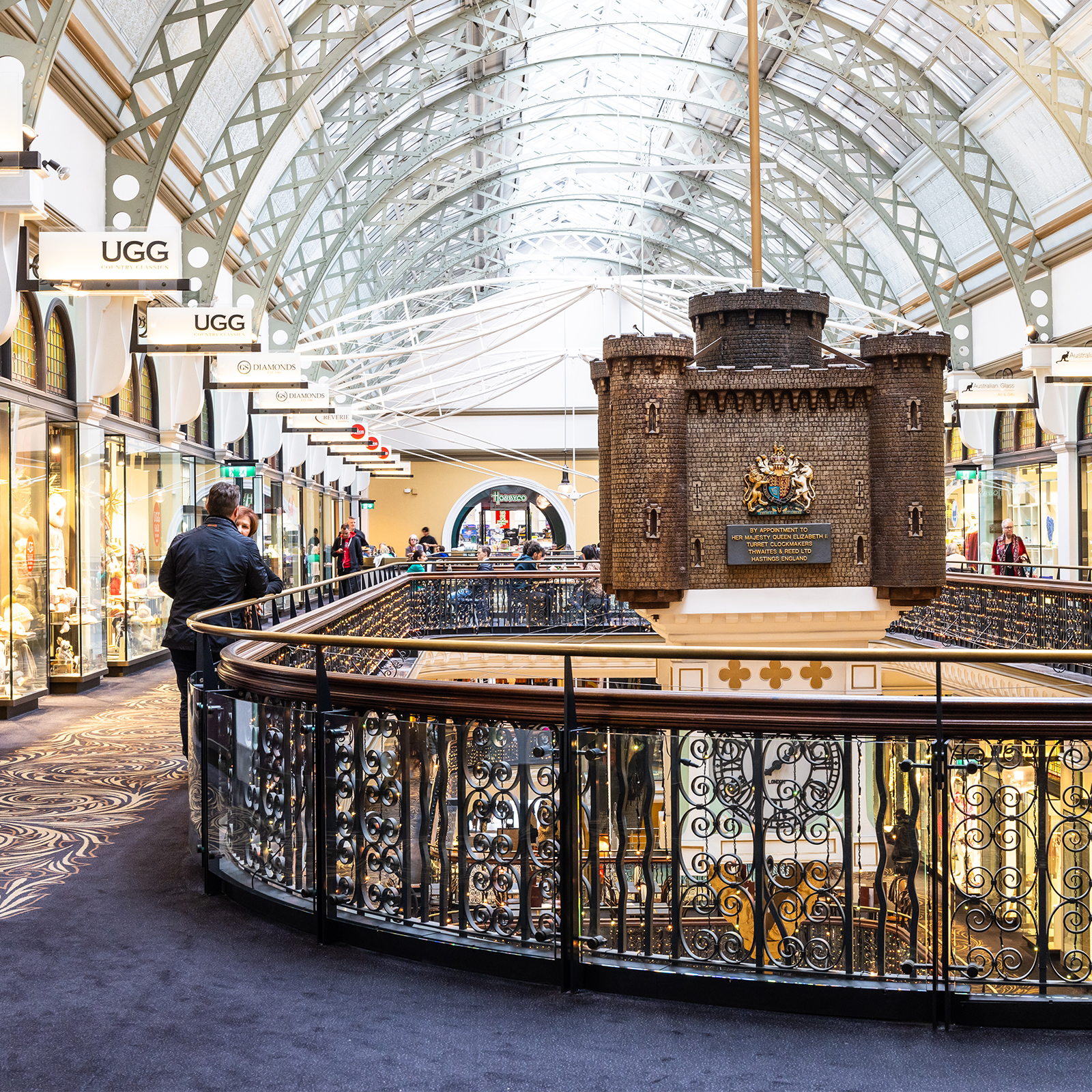 Showcasing classic coastal interior style
Alfresco Emporium Limited Edition will present a curated selection of our exclusive décor ranges. Visit our QVB boutique and take inspiration from the styled tableaux showcasing our traditional Hamptons and Bahamas-style homewares and tableware.
Discover classic Hamptons-style pieces and unique décor, such as our elegant porcelain vases, and feature cushions, perfect for creating a laidback and luxurious home. Or explore our Bahamas-style décor elements, like showstopping clam shells, stylish temple jars, chic tortoiseshell glassware, and rich leather trinket boxes, to evoke a sophisticated coastal vibe.
Peruse our candles and candleware, ideal for creating a luxe ambience in your home. Set the mood with opulent fragrant candles and a timeless hurricane lantern (or two). Or make a statement with a sculptural nautilus candle holder or a unique island-style brass monkey and palm tree candle holder.
All these exclusive pieces, and more, will be available at Alfresco Emporium Limited Edition at the QVB. 
Alfresco Emporium Limited Edition at the QVB
We're looking forward to welcoming you to our Alfresco Emporium Limited Edition boutique on shop 26, level two of the QVB from 13 July until the end of the year.
Our opening hours from July 13th will be:
Monday 10am – 6pm
Tuesday 10am – 6pm
Wednesday 10am – 6pm
Thursday 10am – 9pm
Friday 10am – 6pm
Saturday 10am – 6pm
Sunday 11am – 5pm
Keep up to date with our latest QVB developments with new content released daily on our Instagram, Facebook accounts.