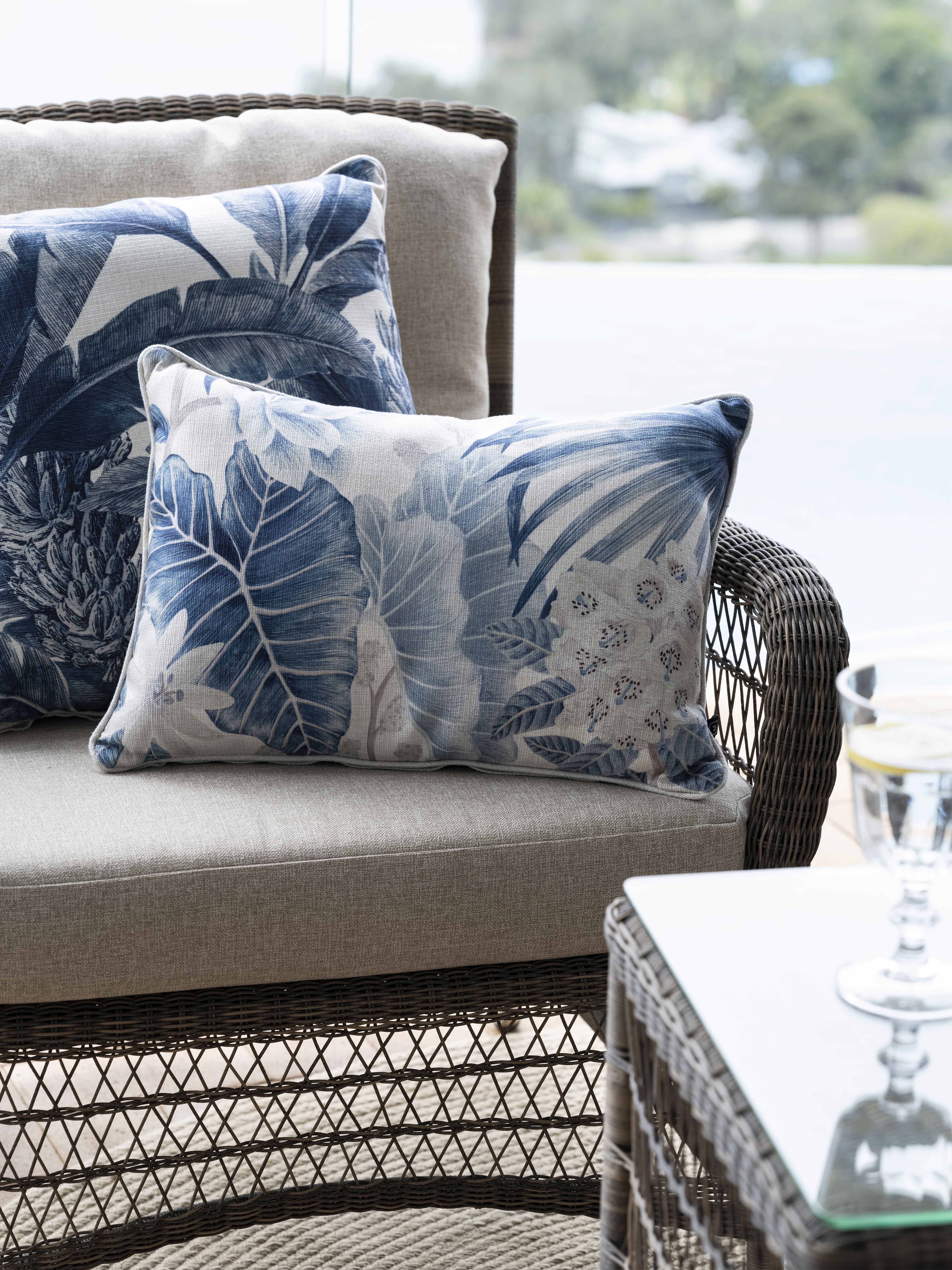 Looking for the perfect outdoor cushions to enhance your outdoor area? Look no further than Alfresco Emporium! We have the pieces to take your comfort and style to the next level. Our range of outdoor chair cushions is specially designed with durability and functionality in mind while offering a beautiful aesthetic appeal. 

Crafted with high-quality fabric, these cushions offer unbeatable comfort while standing up to the elements. Whether you have a cosy balcony, a spacious deck or a sprawling garden, our cushions are perfect for any outdoor setting.


Discover the difference our outdoor furniture cushions will make to your space
Our collection of outdoor cushions comes in a wide variety colours and styles. If you're looking for an elegantly classic or relaxed costal aesthetic, we have pieces with geometric patterns and floral prints that'll add a colourful touch to your décor. For a more modern look or cushions that blend seamlessly with existing design elements, we also have a selection of pieces in neutral tones, such as beige. 
No matter what design you opt for, all our outdoor seat cushions have stain-resistant and water-repellent properties. Our outdoor lounge cushions are also designed to resist fading and withstand prolonged exposure to sunlight, so they will maintain their vibrant colours, intricate patterns and pristine condition for years to come.


Explore our expansive range
At Alfresco Emporium, we believe that outdoor living should be as comfortable as indoor living. That's why we've carefully curated a collection of stylish, high-quality options for you. From outdoor furniture and rattan furniture to furniture for the living room and bedroom, simply browse our offerings online or in one of our stores to find something that will suit your personal style and seamlessly complement your existing décor.


Alfresco Emporium — the source of high-quality outdoor couch cushions and more
With over 25 years of experience, Alfresco Emporium is an industry leader and icon you can rely on to elevate your family lifestyle and dining experience. 
If you'd like to test the comfort of our outdoor cushions or see the quality for yourself, visit our stores in Sydney and the Gold Coast. You can view our curated displays for design inspiration or speak to our knowledgeable staff, who can offer expert advice and guide you through our offerings. 
You can also browse through our user-friendly website and experience a seamless customer experience with Australia-wide shipping and various secure payment options, including Visa, Mastercard, PayPal and AfterPay. 
Shop now at Alfresco Emporium and transform your outdoor space into a haven of relaxation and style, creating an inviting atmosphere that will impress your family, friends and neighbours.



FAQs
What types of outdoor cushions are available in your collection?
Our collection boasts various outdoor bench seat cushions along with cushions for armchairs and lounges in different patterns, colours and fabrics to cater to a wide range of outdoor design preferences.


How can outdoor cushions enhance my patio décor?
Outdoor couch cushions add comfort and style to your patio. They introduce vibrant colours, intricate patterns and a cosy ambience, transforming a plain outdoor space into a warm and inviting oasis.


What are the recommended maintenance tips for outdoor cushion longevity?
To ensure the longevity of your outdoor cushions, consider the following: 
Clean them regularly with mild soapy water and air dry.
Avoid prolonged exposure to direct sunlight to prevent colour fading.
Store them indoors or under a protective cover during heavy rains or winter months.
Treat fabric with a water-resistant spray to enhance protection.


Are these outdoor cushions suitable for all weather conditions?
Our outdoor lounge cushions are designed to be durable and resistant to mild weather conditions. However, while they can withstand occasional light rain and UV rays, protecting them from prolonged direct sunlight and heavy rainfall is recommended for optimum lifespan.