As we creep closer to the highlight of the year at Alfresco Emporium, we present you with our most enchanting and traditional Grand Manhattan Pre-Lit Christmas Tree. We invite you on a magical journey to explore our treasured tree, that will shine bright in your festive space.  
Alfresco Emporium's exclusively designed Christmas trees are inspired by the magnificent and perfectly tiered Christmas trees of Manhattan. The quality of our trees come with years of research, enabling us to bring you thoughtful presentation and considered embellishments, that will add a twinkling grandeur to your home. 
Christmas Tree Design, Set Up and Pack Down Process
The carefully considered Manhattan tree design makes the set-up and pack down process easier than ever! All Grand Manhattan trees come pre-lit with 3 easy-to-assemble pieces, leaving you with only shaping and fluffing, until you arrive at the most exciting part of decorating and adding the baubles of your dreams!  
Once the festive season comes to an end and gloom sets in, your mood will be lifted with a simple and efficient pack down process. You'll be glad to know that our Grand Manhattan Christmas trees are packaged in a stylish and functional wicker trunk with straps, saving you post season storage stresses. 
Pack-away and preserve your Christmas tree with our premium and sturdy Christmas tree storage bag. Our bespoke Christmas tree bag, has been carefully curated and designed by Alfresco Emporium.
Christmas Tree Sizes and Features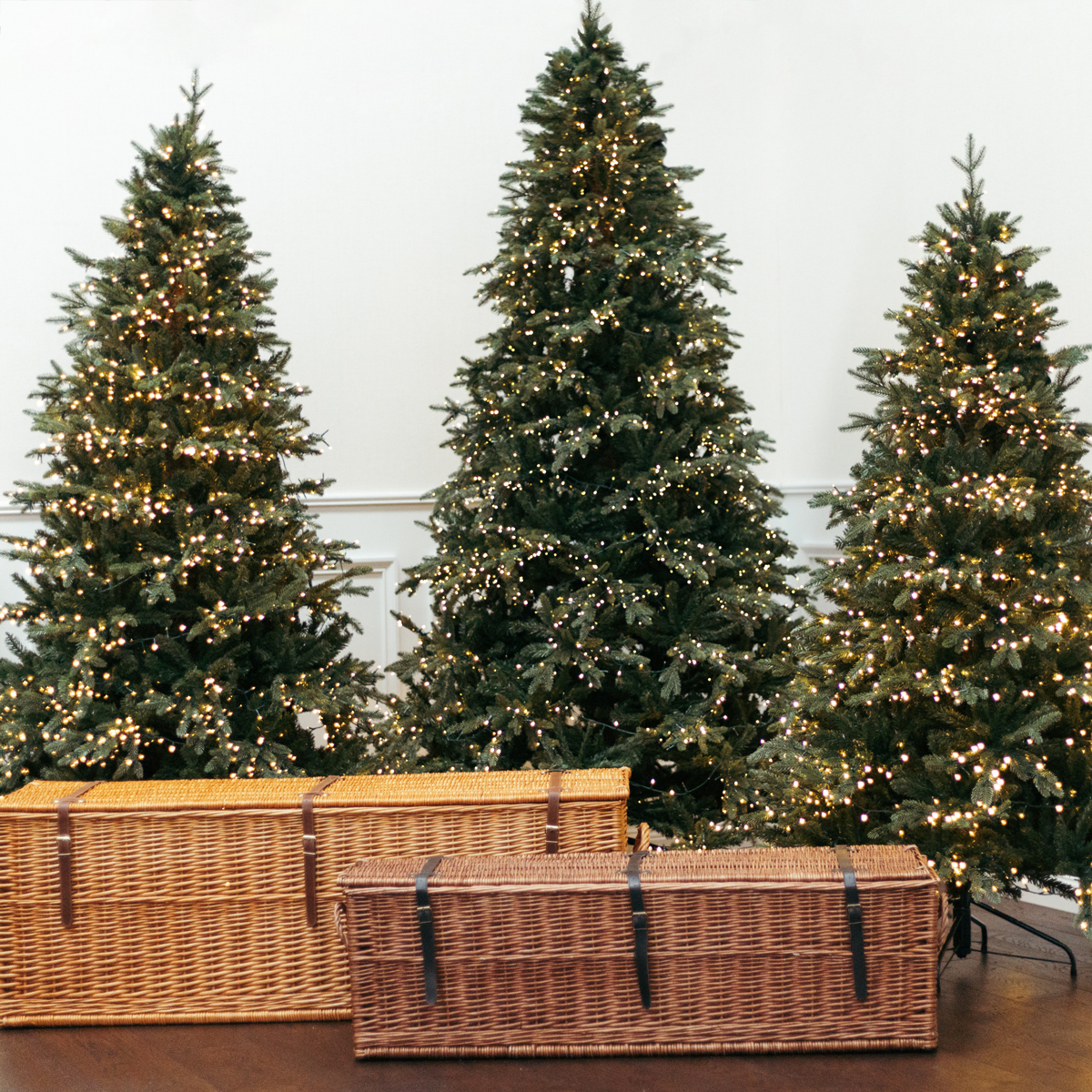 The curated Manhattan Christmas tree range is available in small (180H cm), medium (210H cm) and large (240H cm) sizing, to suit every personal need and living space. Crafted with the highest level of detail, our trees feature full, life-like branches of green foliage and warm LED bud lights.  
If you obsess over the placement and settings of Christmas tree lights, our very own pre-lit Christmas trees come with perfectly spaced-out lights, that can be set to 8 different modes including still, flashing and soft twinkling, allowing you to experiment to your heart's content. The Warm White LED lights come in small (180H x 125D cm, 3000 lights), Medium (210H x 135D cm, 4000 lights), and large (240H x 155D cm, 5000) to perfectly fit the specifications of your Grand Manhattan Tree size, including one power cable. 
Decorating Your Tree
Decorating your Christmas tree is a very special part of the Alfresco Emporium Christmas tradition, that's why we put so much attention into our tree décor range. You'll be in awe of our exquisite range of baubles and ornaments, and foliage with stunning styles designed to suit your Christmas tree theme, and home interior. 
Storing Your Christmas Ornaments
Pack-away your precious decorations in our premium multi level Christmas ornament storage bag, that has been carefully curated and designed by Alfresco Emporium.