Our Luxurious Bathroom Collection Presents Premium Comfort & Modern Elegance 
The Alfresco Emporium bath collection has been carefully considered, and curated with high quality design and fabrics. Explore our premium Bemboka cotton bath towels, luxury robes, Alfresco exclusive bath mats, and elegant décor.
Deluxe Bemboka Bath Towel Collection
Our premium Bemboka Towels are woven from pure cotton, with a thick and absorbent texture. The luxurious collection features multiple colour tones, and a selection of bath towels and sheets, face cloths, hand towels and bath mats.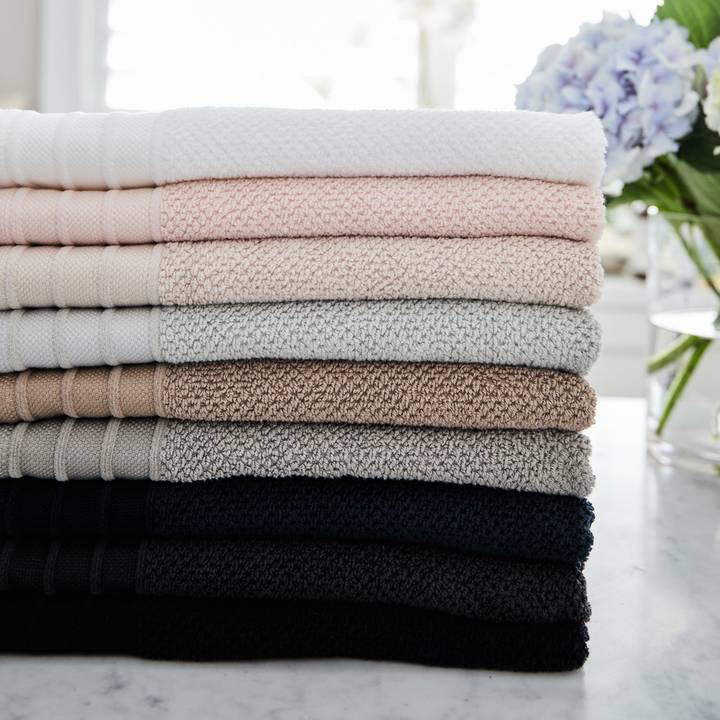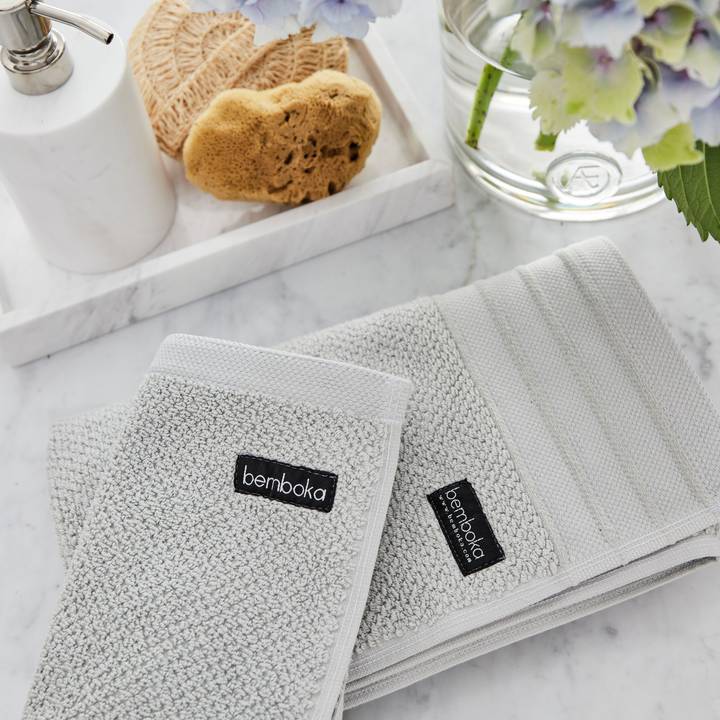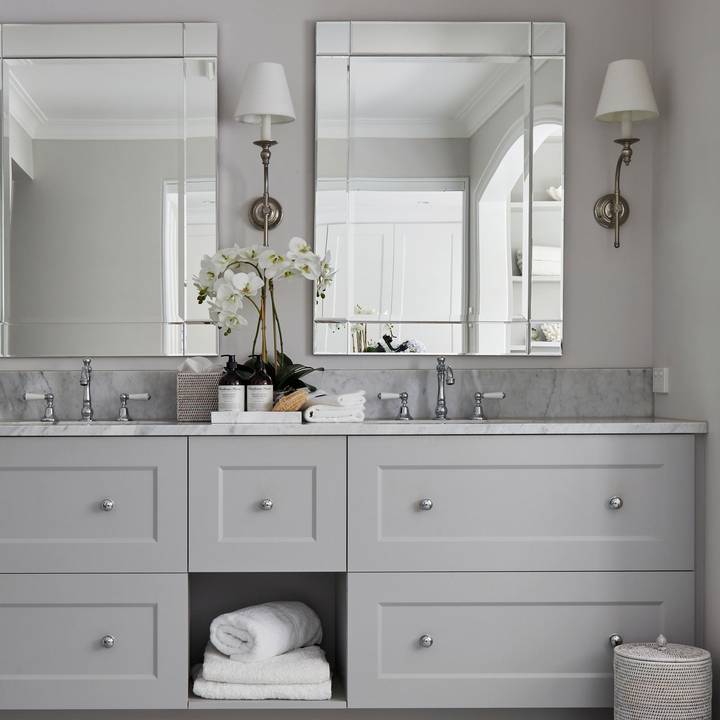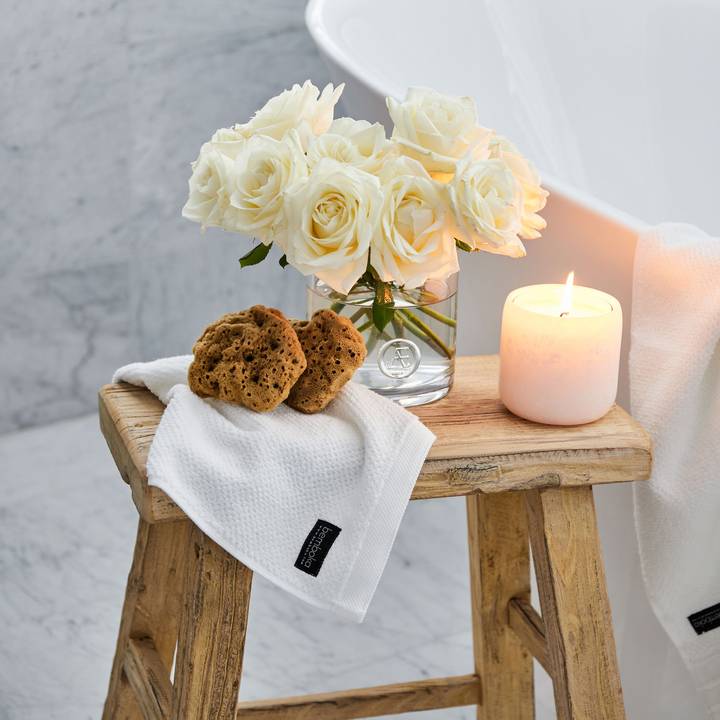 Our premium Bemboka towel ranges are available in White, Dove, Blush Pink, Wheat, Mocha and Ink
tones
.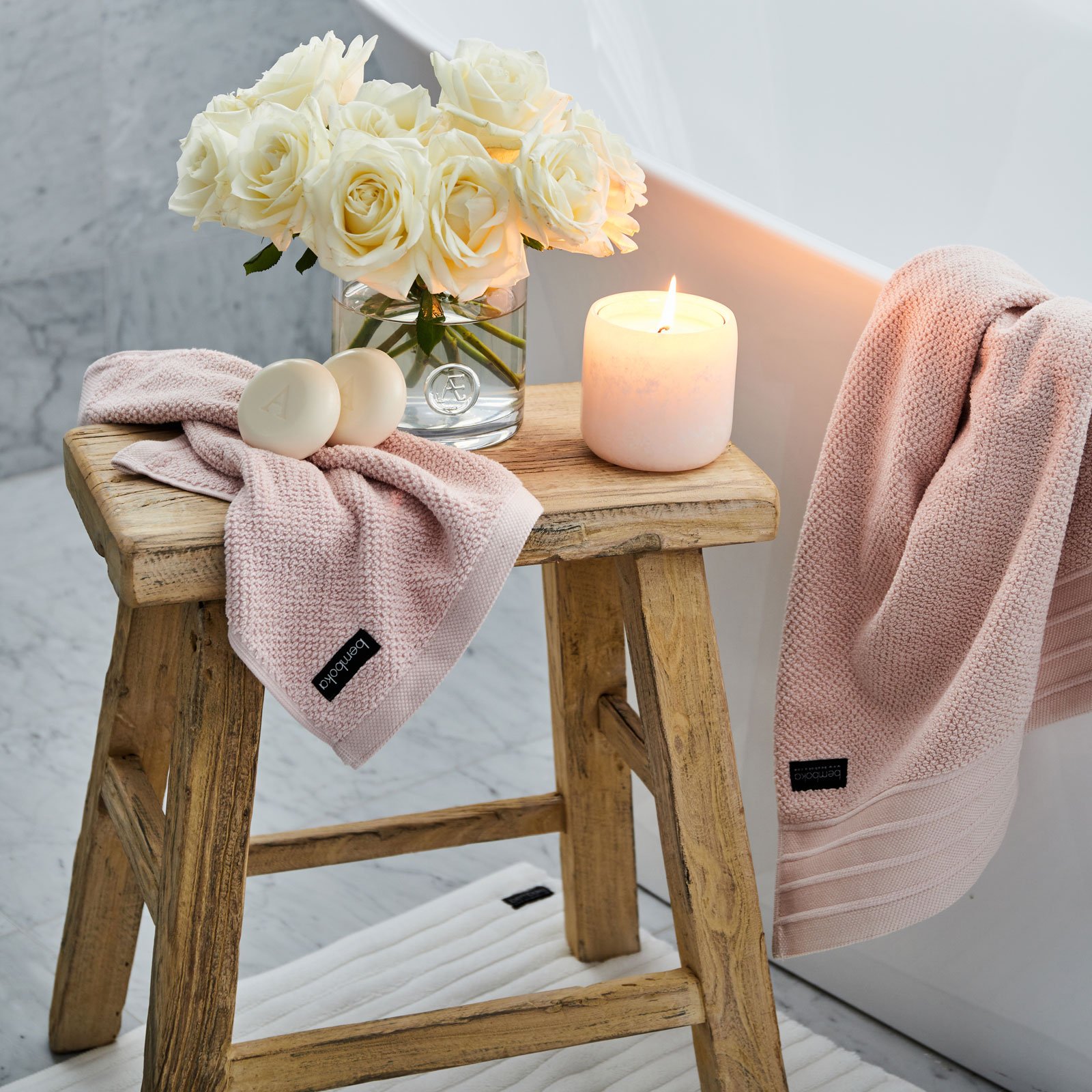 Complementing Bath Décor
Bohai Stool Rectangular - Crafted from elm, these rectangular stools have a rustic finish and look great as a relaxed side table to display decorative décor.
Alabaster Candle Refill Holder White - This earthy candle holder is made from natural stone with a subtle translucency that will bring a soft glow to your tranquil space. Designed to be paired with our exclusive range of scented candle refills.
Alfresco Emporium Signature Glass Vases - Curated Alfresco Emporium branded vases with a timelessly elegant and versatile design. Ideal for creating a bespoke display for your choice of fresh, or faux florals and foliage. Perfect for all round use, available in four different sizes to suit all space requirements.
Alfresco Frangipani Monogram Soap Gift Set - True Parisian triple-milled soaps with a creamy lather for a long lasting effect. Enriched with natural shea butter and vitamin E, infused with frangipani essential oils. Gift Sets contain four bars of the same monogram lettered soap (excluding letters Q,U,X,Y and Z).
Silk Sea Sponge - Bring some spa luxury to your everyday showers with this 100% natural velvety sea sponge. Ideal for sensitive skin, to create a generous lather perfect for exfoliating the face and body (top image - bottom right side).
Como Marble Tray Large - Ideal for organising and confining your toiletries on the bathroom counter, this Greek marble tray is both practical and elegant (top image - top right square).
Como Marble Lotion Pump - Made from Greek marble, this stylish lotion pump will add glamour to your bathroom, a beautiful accompaniment to the our Como Marble Trays (top image - top right side).
Embroidered Towels Silver Shells - Bring a subtle coastal aesthetic to your bathroom styling with this high-quality cotton towel. The classic white tone of this incredibly luxurious towel is beautifully complemented by the elegant embroidered shell design in a soft silver-grey hue.
Luxurious Cotton Bemboka Bath Robes

Pamper yourself in a luxuriously soft, Bemboka knitted robes designed for ultimate comfort, available in a range of beautiful colour tones. These elegant daily bath essentials are highly absorbent and breathable, crafted in a light-weight cotton fabric. A durable, and versatile design, with a premium hand-finish.
Available in small/medium, and large sizes in White, Wheat, Dove, Blush, Charcoal and Grey.   
Rich Textured Bath Mats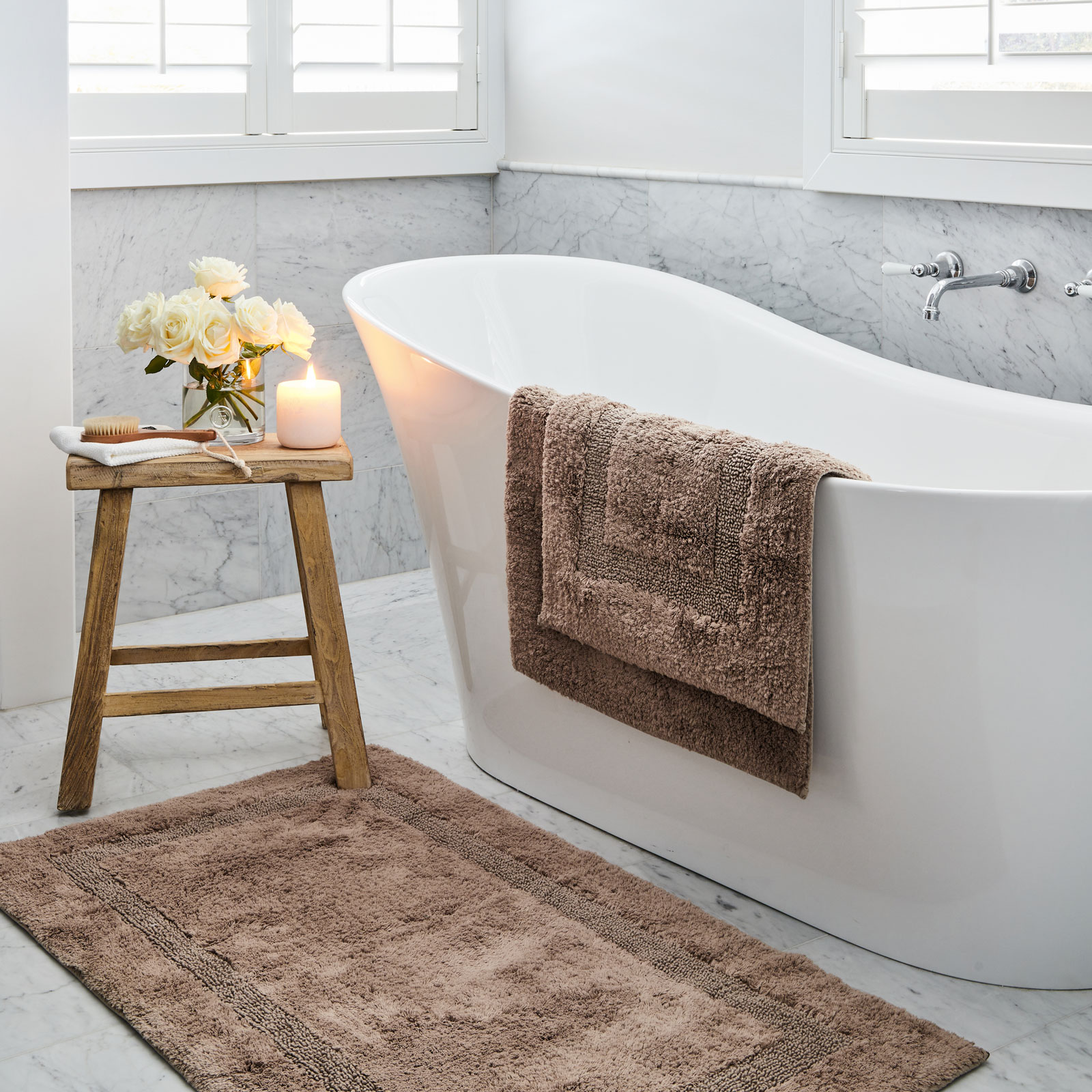 Alfresco Luxury Bath Mats - Create a warm ambience in your tranquil bathroom with our European made, deep pile bath mats, exclusively designed by Alfresco Emporium.
Our premium bath mats are generously sized, reversible and richly absorbent, crafted from soft natural fibres. Designed for life long durability offering maximum comfort, whilst enhancing the look of your bathroom, they also serve as an insulator with slip resistant underlay.
Available in Mocha, Natural and White colour tones.
(Image features Mocha tone). 
Ribbed Bath Mat White - Crafted from thick, luxurious cotton, this bath mat features a slim ribbing which absorbs water quickly and effectively as you step out of the shower or bath.
Elegant Bathroom Décor & Stylish Storage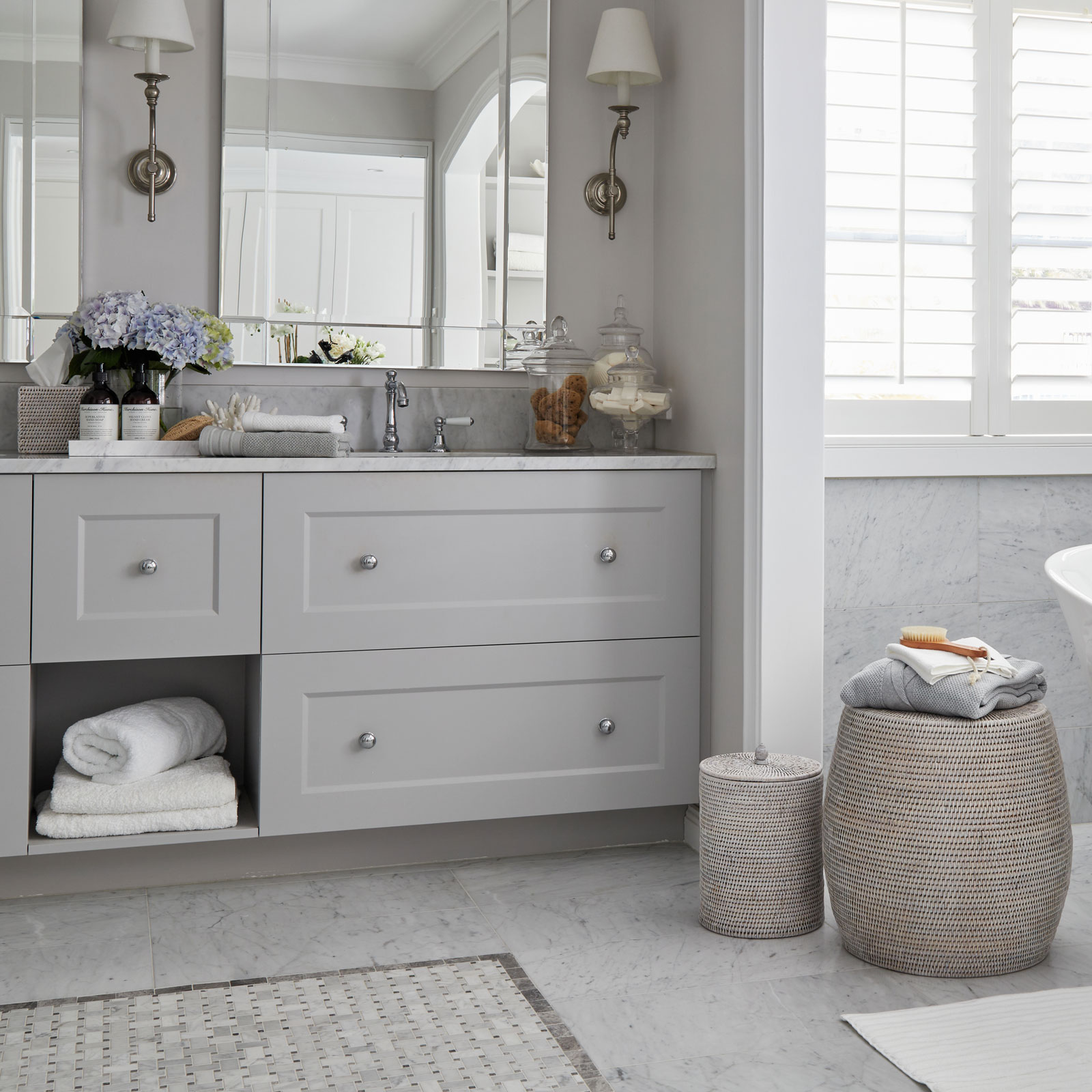 Artificial Hydrangea Stem English Dark Blue - Add some earthy pops of colour to your bathroom with these stylish artificial English Hydrangea stem bouquet in dark blue with hints of purple. Display on its own, or group with other faux florals for a bespoke bathroom sink floral display.  
Artificial Hydrangea Stem French Blue - Elegant artificial French Hydrangea display, with pops of blue and purple. Display individually or with faux stems for a bespoke arrangement in your bathroom.
Silk Sea Sponge - Natural velvety sea sponge for a luxurious shower experience. Formulates a generous lather, suitable for sensitive skin and great exfoliator for the face and body.
Coral Piece White Extra Small - Bring a natural coastal aesthetic to your bathroom with this delicate coral piece, a one-of-a-kind décor piece, sourced sustainably.    
Life-like Orchid Bowl Displays
Create floral elegance in your bathroom with these decorative faux phalaenopsis orchid arrangements. Display in a classic and dahlia glass vase displays with artificial soil, and deep green leaves for a realistic plant aesthetic.
These stunning artificial arrangements will bring the simply elegance of an orchid all year round, without the ongoing maintenance. View our Artificial Flower Arrangement Phalaenopsis Orchids in a Classic Bowl 54cm, or Dahlia Bowls available in 70cm or 87cm. 
Murchison-Hume Hand Soaps and Creams
A Luxurious range of premium hand soaps, hand creams and cleaning products, containing natural blends and oils in scents of fig, white grapefruit, basil, mandarin and kale.
Murchison-Hume Hand Soap Fig - Made in Sydney from all-natural ingredients, this premium hand soap is designed to gently nourish and cleanse your hands without drying them out. Formulated with a soothing blend of Shea butter and chamomile and finished with the delightful fragrance of fig and zesty cranberry, leaving your hands feeling clean, soft and lightly scented.
Murchison-Hume Hand Cream Velvet Glove Fig - A perfect pairing to our luxurious Murchison-Hume hand soap range, this premium hand cream is formulated with natural seed oils and Shea Butter, for incredibly soft and nourished hands. Features a classic fig fragrance with soft notes of zesty cranberry to leave hands lightly scented. A premium blend that adds an invisible layer of protection against dryness, making it feel like your hands are protected by smooth velvet gloves. 
View our extended Murchinson-Hume hand soap range here
White Rattan
Complement your relaxed and tranquil space with timeless sturdy bathroom storage and accessories.
Rattan Drum Stool white - Elegantly proportioned, this round rattan drum stool will make a practical and stylish relaxed seat within your bathroom.
Rattan Tissue Box Cover White Square - Made from sturdy 100% woven rattan, this stylish storage solution will bring a relaxed feel to any bathroom style. 
View our extended White Rattan bathroom range here 
Como Marble
Add some modern glamour to your bathroom with our range of Como Marble bathroom décor, and stylish storage.
Como Marble Tray Large - Timelessly elegant greek marble décor, a stylish display for a modern, neutral toned bathroom. 
View our extended Como Marble range here