Consoles are practical furniture pieces for your home and are perfect for entry ways, dining rooms, and living spaces. They combine function and style for practical utilisation of space, with beautiful decorative potential.
We have chosen to style our rustic Elm Console with soft tones of blue and white and elegant touches of silver and gold, for a classic, statement look. The soft blue and white colour palette contrasts with the texture of the Elm Console, complementing the rustic wooden aesthetic.
For added storage, choose a console with a drawer so you can hide all the clutter that accumulates. Bonus points if you organise the inside of your drawer with trays, to keep all those miscellaneous items under control. 
Step 1: Choose Your Favourite Wall Art
Hang your favourite wall art as a centrepiece above your console, ensuring your wall art is evenly spaced. To achieve a complimentary proportion between the size of the artwork and the size of the console, we have chosen a print that is slightly wider than half of the console table.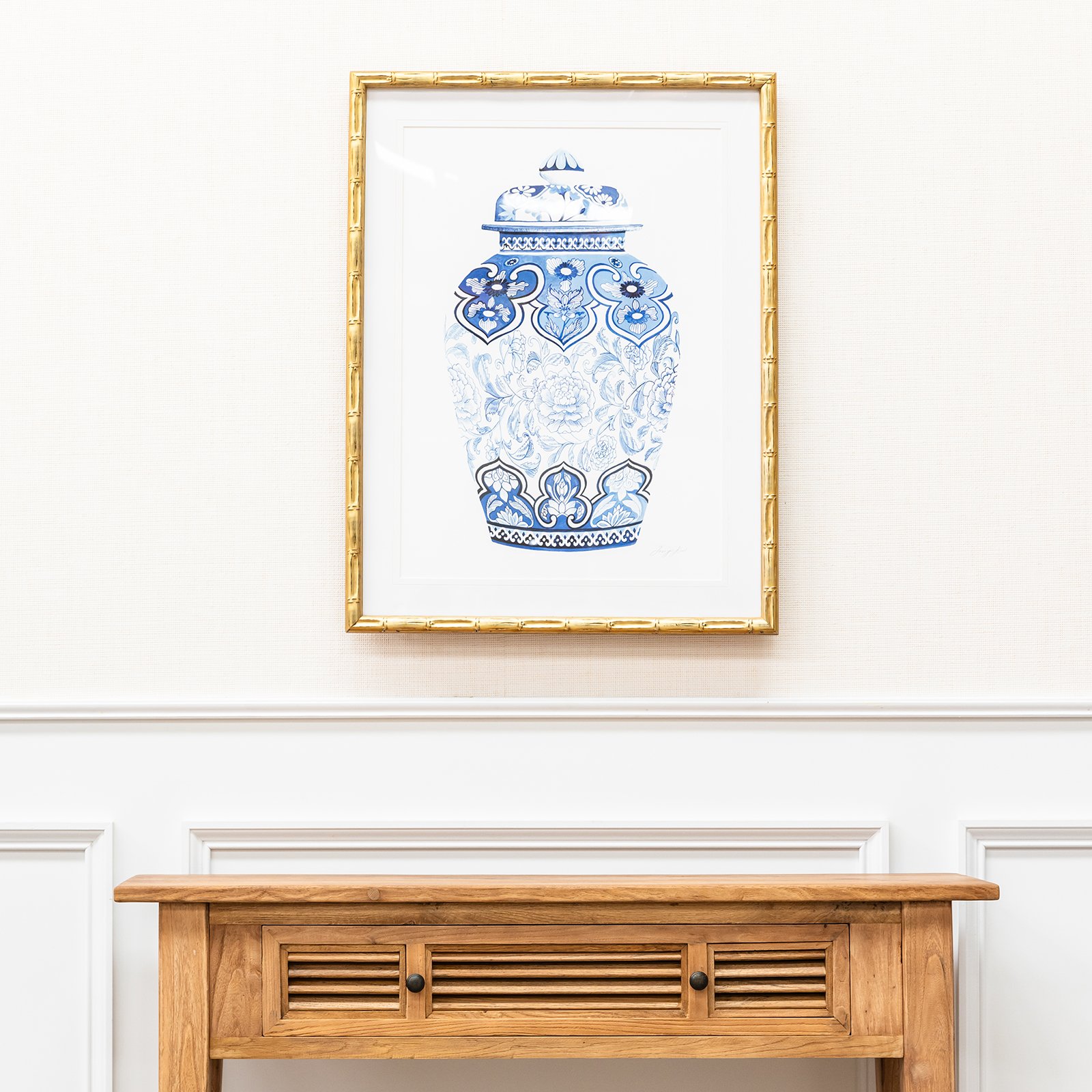 Step 2: Add a Lamp and Shade To Create Warmth
Create interest by placing a lamp off-centre for an asymmetric composition and add visual appeal with a warm glow when the lamp is on. We have chosen to feature our classic navy lamp shade, paired with our silver palm lamp base.
Tip: Choose a lamp that is the right size for the space. We have selected a small lamp & shade to suit the narrow space.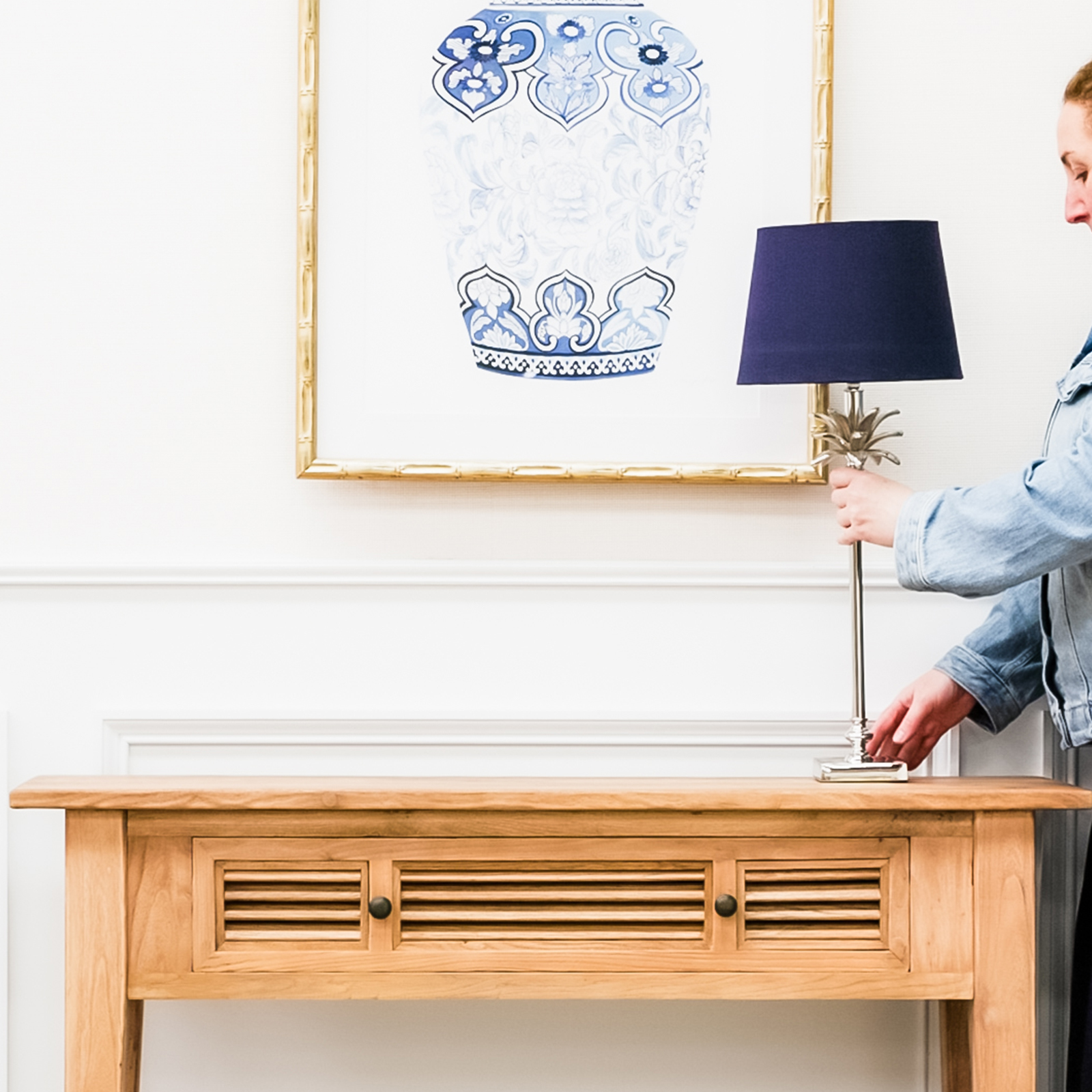 Step 3: Add a Vase To Display Your Florals
Add a decorative vase, flower arrangement and a small tray for practical use. Adding a flower arrangement, whether it is faux or real, brings life and greenery to your home. The swirling patterns on the blue and white ceramic Amelia Vase are repeated in the print hanging above the console and add a focal point to the display. Use a pretty dish and tray to store your keys or other small items on top of the console for easy access.
Tip: Experiment with combining objects of different heights to achieve a visually pleasing arrangement.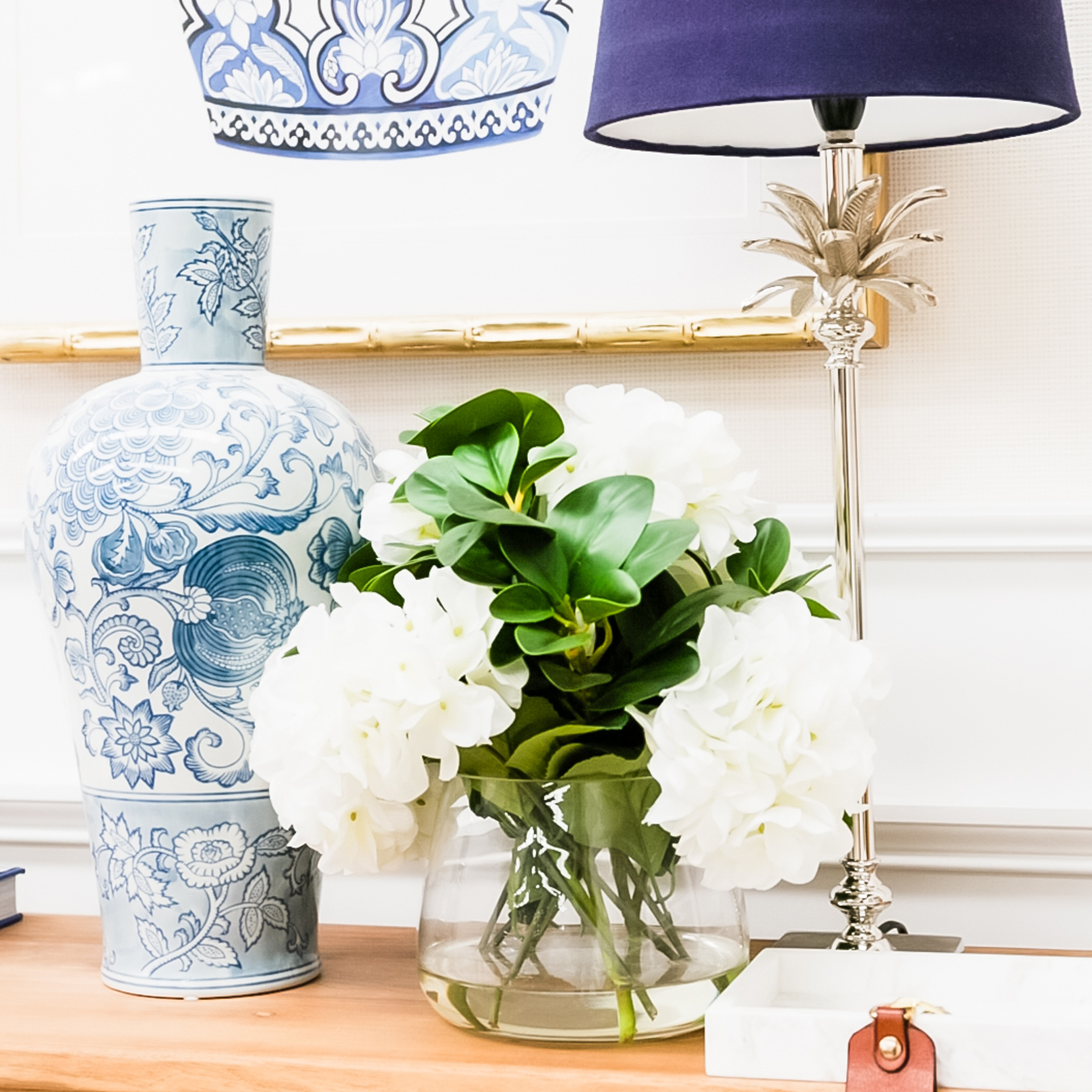 Step 4: Group and Balance Your Elements
Group the lamp, wall art, vase, flowers and tray together, adjust the positioning of the elements until you achieve a cohesive and visually balanced aesthetic.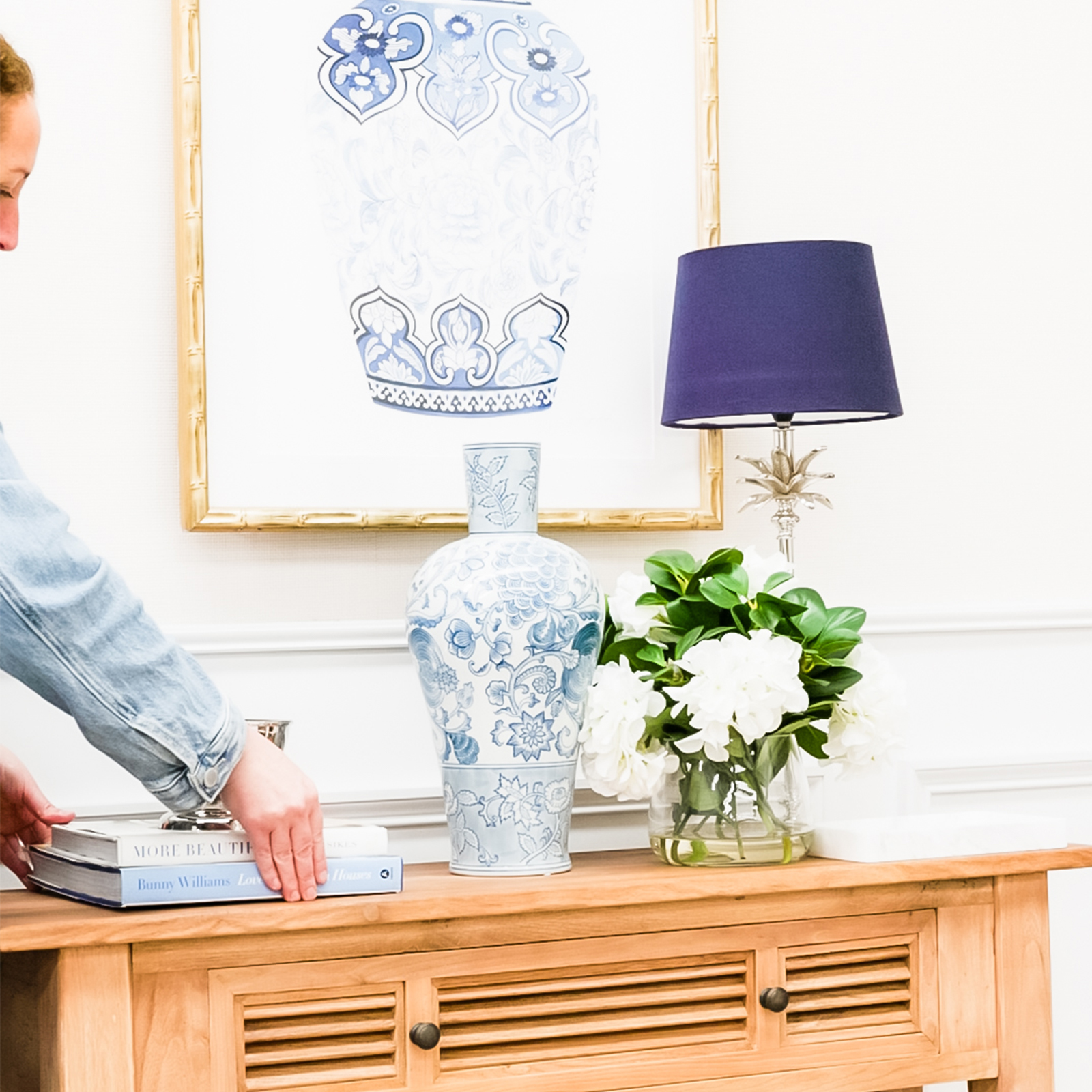 Step 5: Add Books With Similar Colour Tones
Complete your display with neatly stacked books, varying their heights with the biggest on the bottom. We have chosen books that have covers and spines in soft blues and neutrals to match the rest of our colour scheme.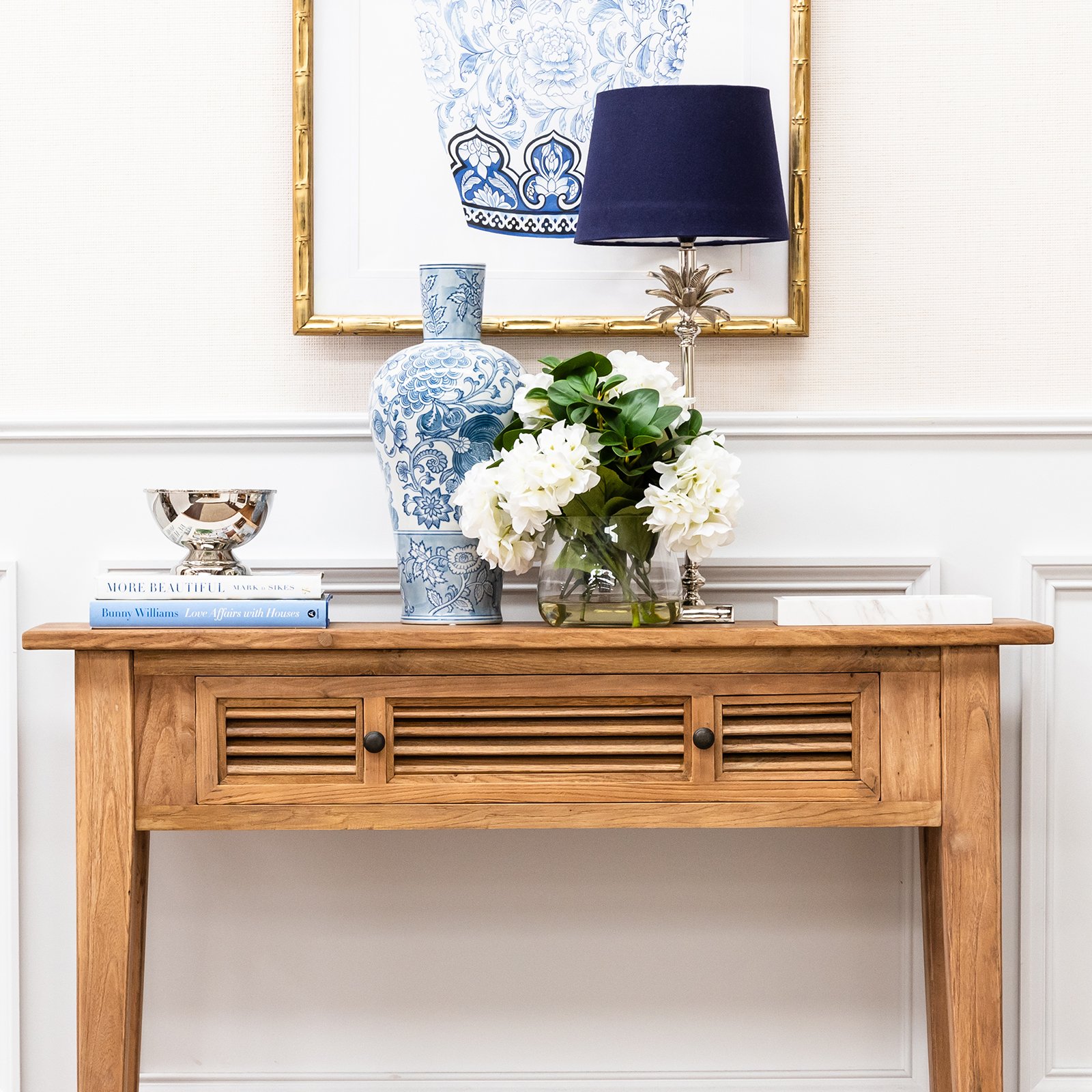 Step 6: Admire Your Styled Console
Finally, take a step back to admire your carefully curated console table, with the decorative elements you have selected to complement its functional design.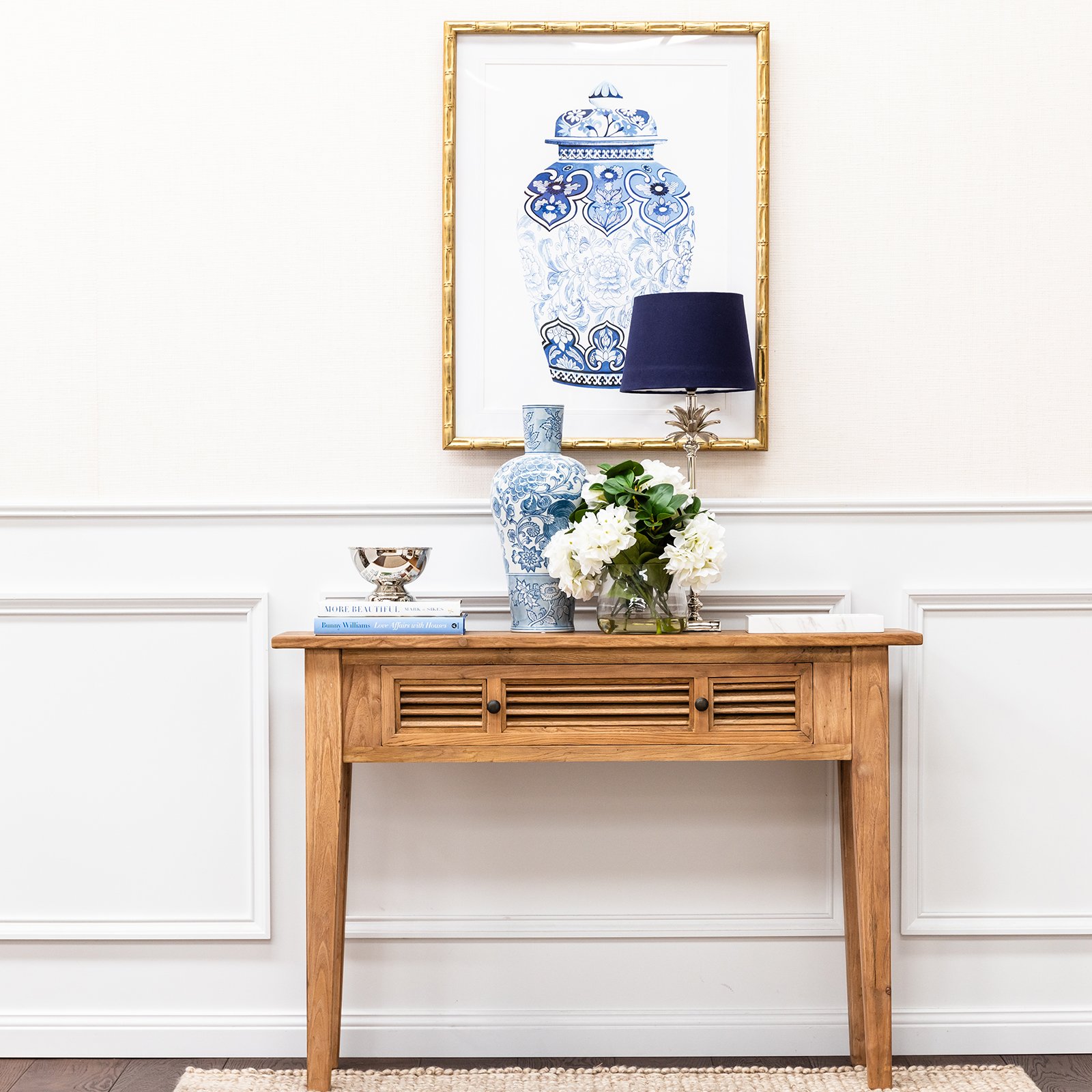 A guide to styling your console
Click play on the video below to watch a step by step demonstration by our very talented Creative Assistant Director, Sarah Bracks. Watch with the sound on for the full experience.
Shop this look: Elm Console, classic navy lamp shade, paired with our silver palm lamp base, como marble tray, leather & brass key ring, and stunning silver nickel bowl, Amelia Vase.
Interior Styling
Decorate and uplift your interior spaces, or transform your entire home with the expertise of our Interior Styling team. 
Keep in touch!
If you have furniture related questions feel free to contact customer care or follow us on Instagram or Facebook to explore our latest collections.