Celebrate life by the water
Lake House style is inspired by holiday homes by the water, the kind of homes that invite you to relax, enjoy the outdoors and spend quality time with family and friends. The mood is casual and comfortable yet stylish, tranquil and relaxed yet classic.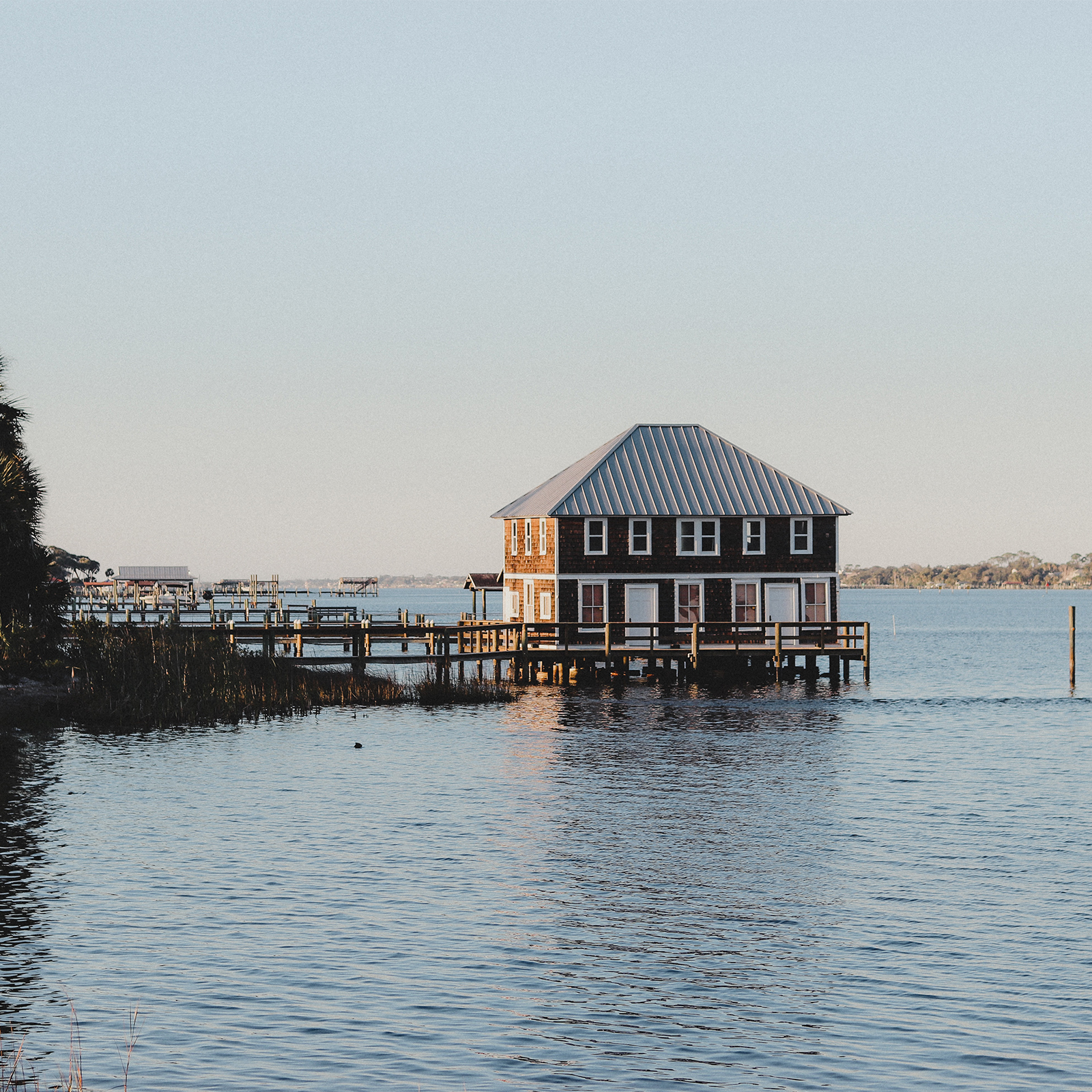 Embrace relaxed coastal décor
Lake House style celebrates the waterside lifestyle and cherishes nature's beauty. Imagine evoking a summer holiday feel in your home every day. A Lake House style home is simultaneously cosy, welcoming, functional and stylish, drawing you in and inviting you to stay for a while.
One of our founder Jan's favourite places to stay on vacation is a bed and breakfast by a lake. She has treasured memories of one particular holiday spent at a character-filled lakeside B&B in Kennebunkport, Maine. Jan and her husband Kevin were greeted on arrival with a sweet red Radio Flyer wagon to pull their luggage to their cottage.
"The B&B's front garden was abloom with pastel-hued hydrangeas set against the cottage's classic white weatherboard façade."
Janice Hore, Founder
Inside, the cottage was full of elegant lakeside charm. Jan and Kev were met by relaxing shades of blue, tan and cream, cosy linen lounges dressed with soft cushions in floral patterns and natural textures, a sweet antique white wicker rocking chair and vases massed with gorgeous hydrangea blooms freshly cut from the garden. The cottage was perfectly positioned by the lake for casual strolls along the winding paths that followed the foreshore or exploring the lake by rowboat. The focus was on comfort, relaxation and enjoyment of the beautiful natural surroundings.
Lake House style living
A Lake House style living room is a place to unwind and catch up with family and friends. Cosy, comfortable seating is a must – choose plush, relaxing chairs in natural materials like linen and position them for conversation and connection.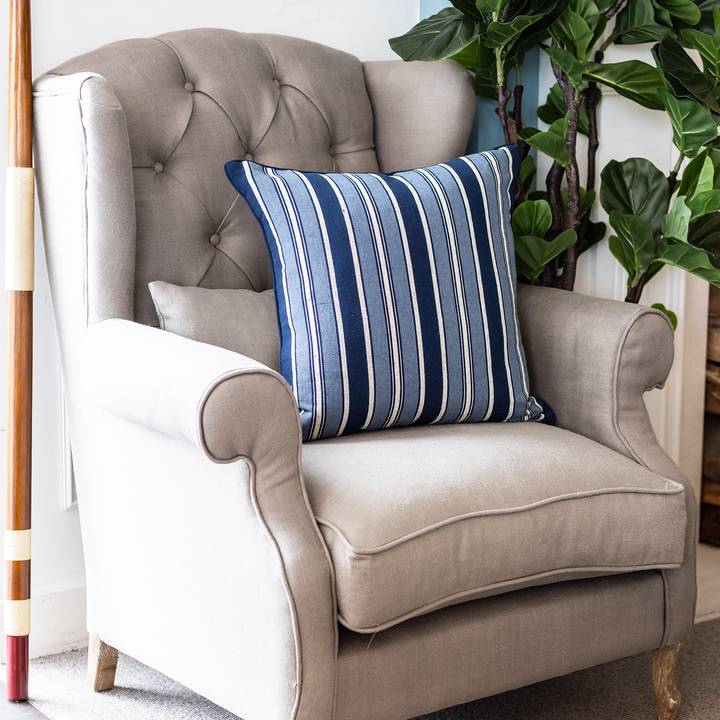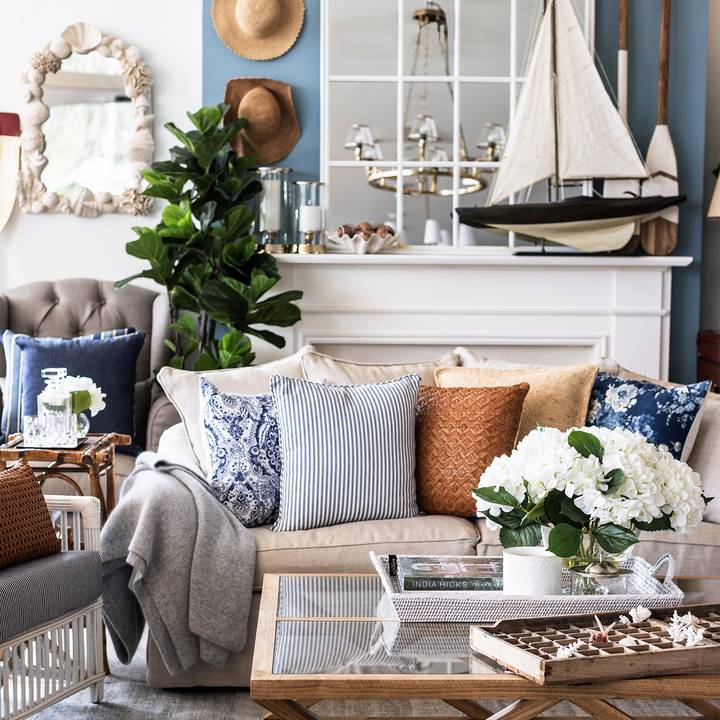 Styling Tip:

Accessorise with comfortable cushions and snug throws, keeping the mood casual by mixing patterns and styles.
Channel relaxed weekends spent on the water with antique nautical accessories. Decorating your home with design elements like wooden oars and paddles creates a tasteful vintage nautical vibe that works in a living room, bedroom or even a bathroom. Or embrace lakeside charm by introducing selected rope details into your décor. The trick is to find subtle ways to bring the ocean inside.
Charming coastal, nautical and nature-inspired décor elements bring Lake House style to life. Take inspiration from the sea, lake or river when choosing the colours for your Lake House home. Blue hues, from soft and serene tones to nautical navy, paired with crisp whites and earthy neutrals, lend your space a sense of peace and calm.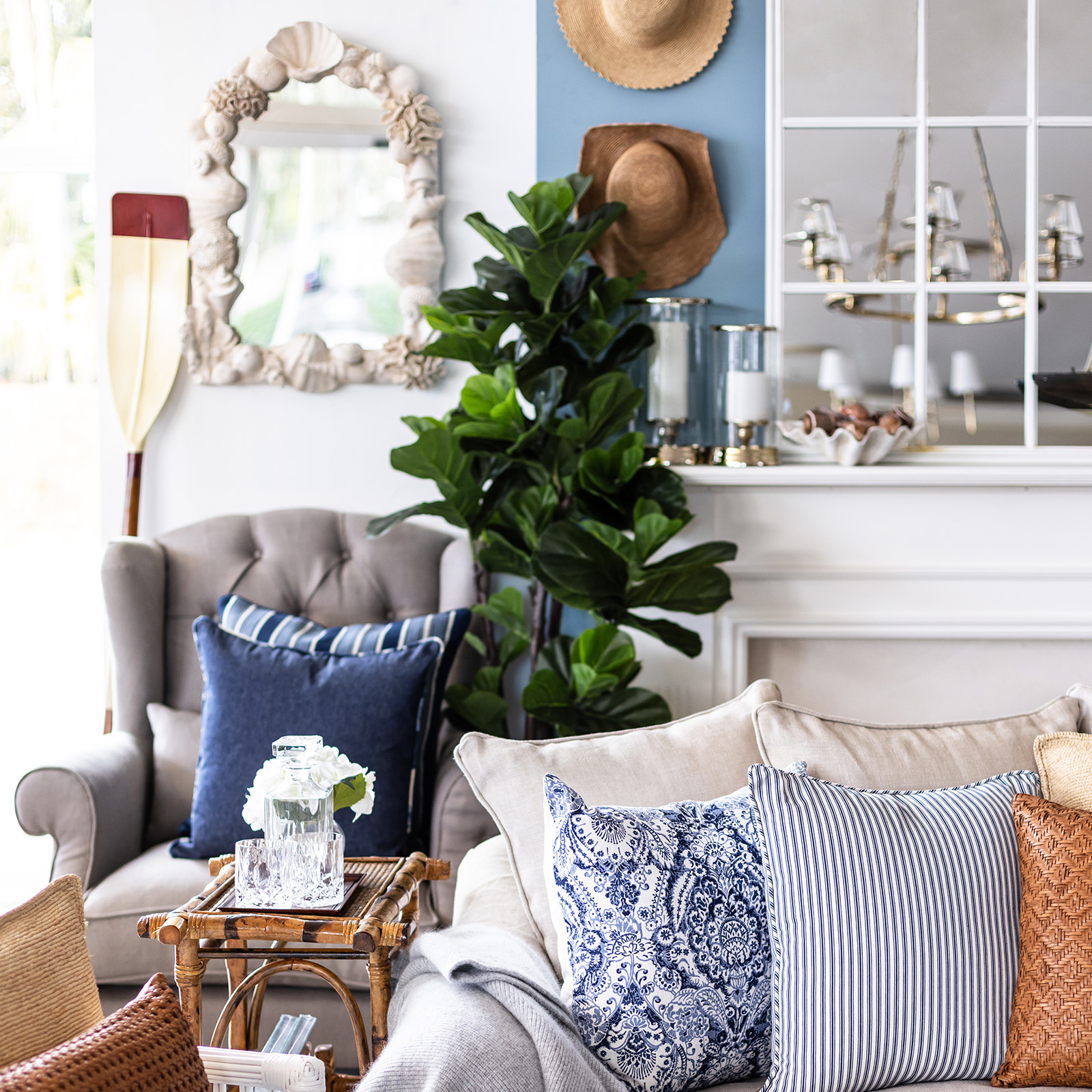 Classic yet casual and always comfortable
Comfort is king in Lake House style, so down-to-earth, relaxed soft furnishings reign supreme. Textiles like linen, cotton, tartan, muslin and leather are right at home in a Lake House style interior.
Styling Tip:

Soft cushions in a mix of natural materials and textures are the perfect way to inject classic but casual style into your home.
Try marrying different cushion textures and fabrics to keep the ambience relaxed. Pair handcrafted woven leather cushions with blue denim and natural raffia for an informal but stylish look that speaks to a love of the great outdoors. Or tie a Lake House style room together with a classic nautical striped rug in natural materials like jute or cotton.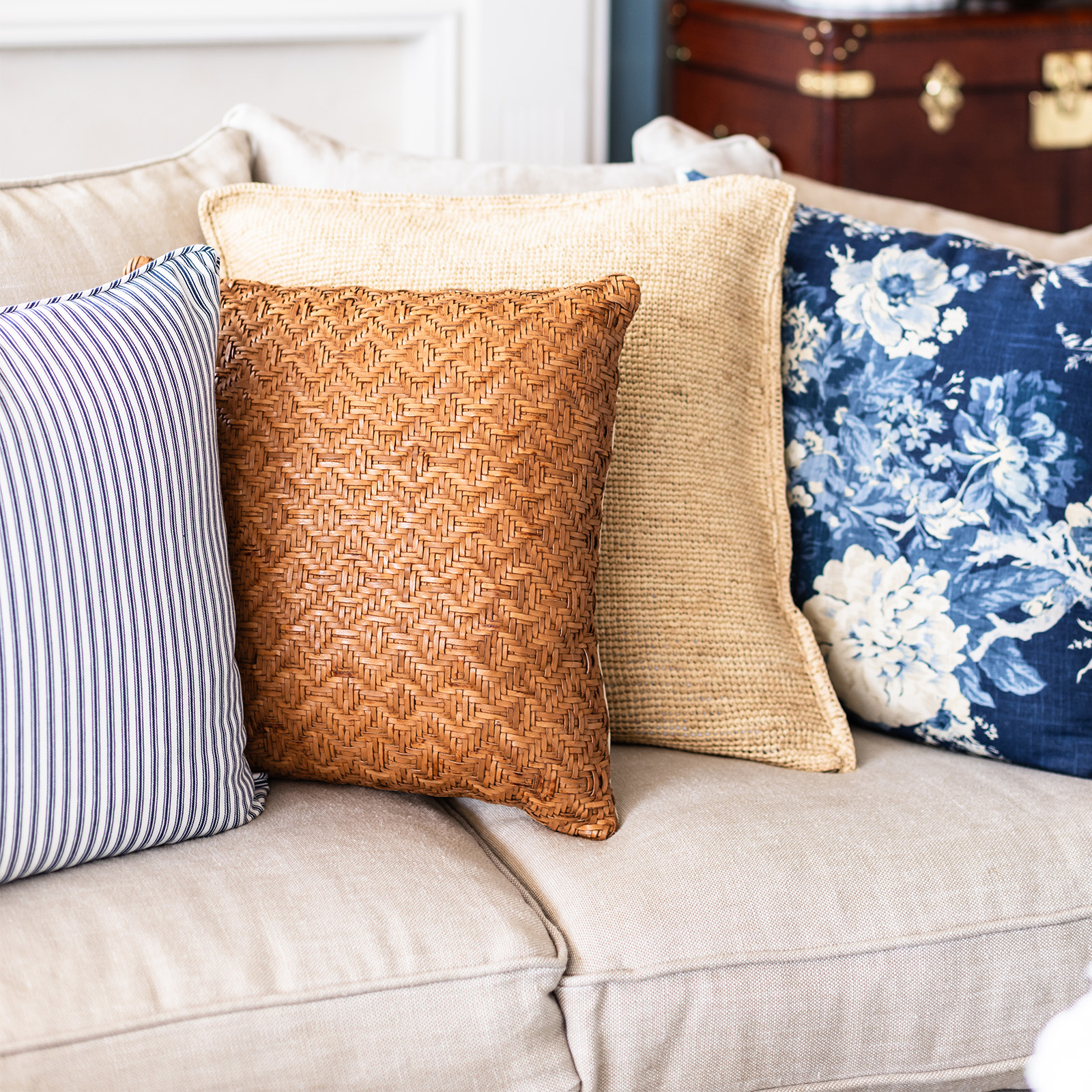 Bring nature in
The use of natural materials in a Lake House style home is a great way to bring the outdoors in. The organic texture of timber furniture or woodsy colours like bark brown, driftwood grey and sandy beige give a space a rustic, lakeside feel. Fill vases with fresh or faux flowers and greenery and embrace décor accents in organic materials. Rattan is a Lake House classic.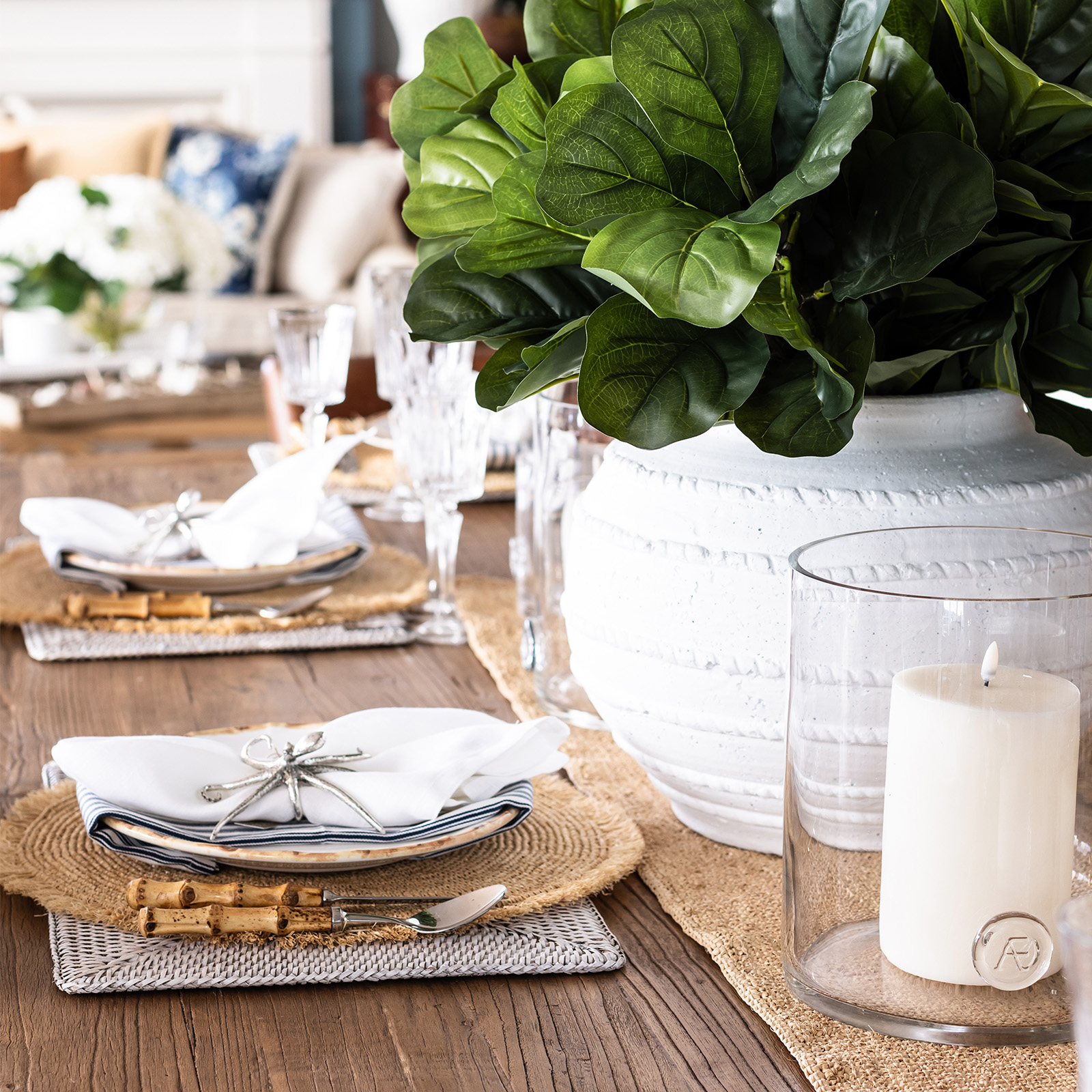 Styling Tip:

Select rattan pieces, such as baskets, trays, desks or bedheads, to bring a Lake House feel to your kitchen, living spaces, bedrooms, study or bathrooms.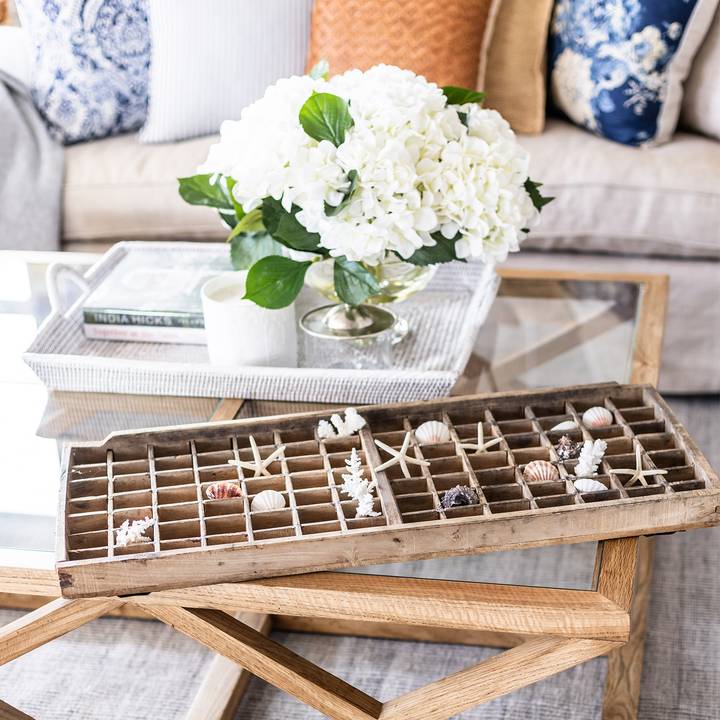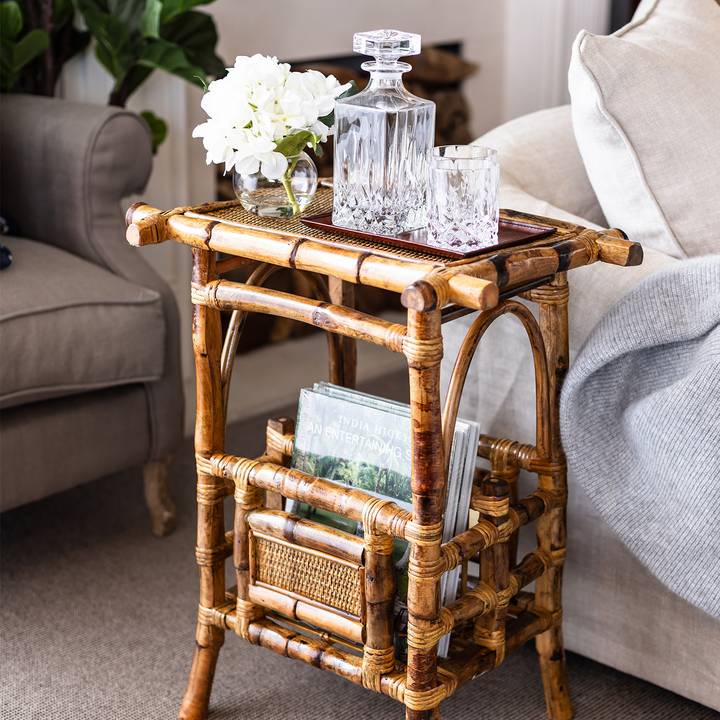 Setting a Lake House style table
Lake House style is about evoking balmy summer days and nights spent with loved ones, so family brunches, long lunches and festive dinners are the perfect places to showcase your Lake House style. Pair a wooden dining table with timber, rattan, linen or leather dining chairs for a rustic lakeside mood. You might like to add a modern chandelier for a touch of formality in an otherwise relaxed design scheme.
Styling Tip:

Embrace the biophilic (nature-loving) aspect of Lake House style with rattan placemats, and bamboo cutlery and crockery.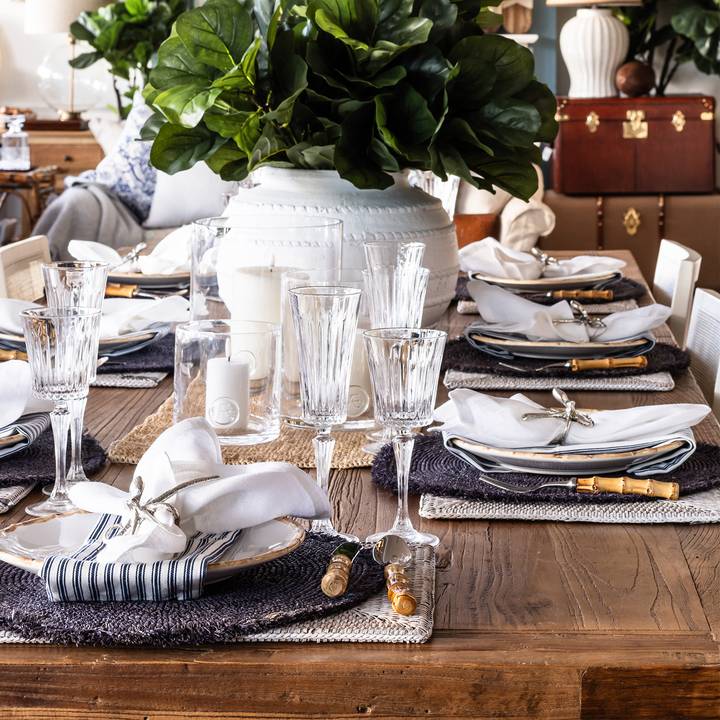 Classic ticking stripe napkins paired back with crisp white linen continue the nautical theme, while hurricane lanterns filled with pillar candles and river pebbles add a touch of rustic elegance to the table. Finish the look with statement napkin rings in a waterside motif, such as a chic octopus, coral or starfish.
Looking for more Lake House style inspiration?
Dip into our Lake House Style Guide for more décor ideas, shop our Lake House collection online or in-store at Collaroy, Bundall or the QVB, or reach out to our experienced interior styling team for a custom Lake House style look for your home.